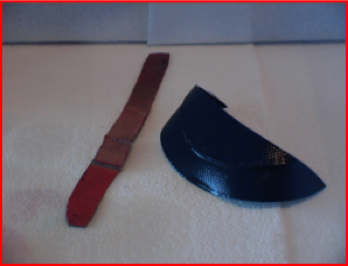 CLEANING & RESTORATION OF NEGLECTED DINGHIES
First wash the boat to remove surface dirt. You can use any detergent in water, but well water-diluted IG Pink™ is particularly effective.
On inflatable boats made of heavy duty vinyl or hypalon, our Cleanser/ Conditioners may be used directly at full strength using a 3M Synthetic Steel Wool Pad (Grey, "000" grade) to help remove stains and to impregnate the fabric with preservative conditioner. NEUTRAL CLEAR™ can be used on any color, but is best on "earth tone" colors ( beige, cream brown etc) since it will not alter the color. SEA GLOW™ is best for white but can also be used on blue, red and other bright colors of fabric. Either product can be used on grey or black).
After neutralizing the cleanser by water-wiping and then toweling dry, seal the surface with SILKENSEAL™ . The fabric will again become bright and "new" looking with a protective surface sheen.
Treat Polyurethane fabric more like vinyl (avoid heavy abrasion during cleaning, using only a 3M White scuff pad ("0000" grade) and/or white paper towel. To avoid slipperiness when clambering in and out of the dingy, the top of the inflatable tubes may receive a coat of NON-SLIP Superglaze™ applied over a SILKENSEAL™ undercoat.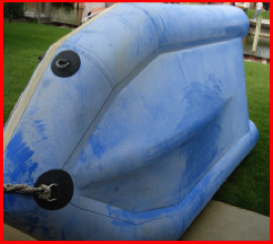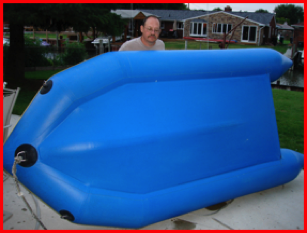 A: COMMISIONING A NEW INFLATABLE BOAT
1. Using white paper towel or microfiber cloth, very sparingly wipe over the fabric surfaces of the dinghy with an appropriate Cleanser-Conditioner. Use NEUTRAL CLEAR™ for any color of inflatable fabric, but it is especially suitable for "earthtone" colors such as beige, grey, cream, and brown. SEA GLOW™ is absolutely the best product to use on white boats, but it can also be used on yellow, red, blue or any other "bright" colors. It should NOT be used on earthtone colors since it will abnormally change the color in a blotchy pattern, depending upon how much it has soaked in.
These Cleanser-Conditioners will impregrate the fabric with conditioners that enhance and maintain suppleness and protect agains color fade, oxidation, mildew or algae. The strong fluorescent blue properties of SEA GLOW™ are especially effective in maintaining snowy whiteness of the inflatable fabric, as we have seen for many years on both vinyl and hypalon,
2. Next wipe the boat over with water-wetted paper towel and then towel dry,
3. Finally, seal the surface against stains and abrasion with SILKENSEAL™ "plastic skin" surface protectant. After it is dry to the touch, a second coat may be applied. On underfoot areas that can be slippery when wet (upper surface of the tubes), a coating of NON-SLIP Superglaze™ can be applied over the SILKENEAL™ undercoat. This product can also be used to protect metal and hard plastic parts, although MIRROR HARD Superglaze™ is a little more protective since one wipe gives a thicker coating.
B: ROUTINE CARE AND MAINTENANCE
Inflatable boat fabric (especially vinyl) is very sensitive to UV, airborne pollutants and abrasion.Therefore:
1. Keep the boat covered or inside whenever not in use.
2. Routinely rinse off the dinghy with fresh water at intervals so that airborne soot and pollutants do not have time to accumulate and start to penetrate the protective layer of SILKENSEAL™
Light Cleaning; Use copiously water-diluted ISLAND GIRL PInk™. Start with a few squirts into a bucket of water. Alternatively dish soap (less effective) can be used.
Be as gentle as possible while cleaning. Just use soft brushes, microfiber cloth or white paper towel. The white 3M scuff pads ("0000" grade) are also suitable for stubborn grime. Reapply SILKENSEAL™ and/or NON-Slip Superglaze™ if water beading seems diminished.
Moderate Cleaning: Use a 20-50% water dilution of ISLAND GIRL Pink™ . Then rinse well with water and towel dry before resealing the surface with SILKENSEAL™ then (optional) NON-SLIP Superglaze™ on tops of the tubes).
Safety of our Products:
We have done prolonged "soak tests" of inflatable boat seams with our products (ISLAND GIRL Pink™, , NEUTRAL CLEAR™ and SILKENSEAL™ ) both with glued and welded vinyl and glued hypalon. In addition we have used our Cleansers and SILKENEAL™ over a ten year period before glueing on a new "splash apron"on our Tinker dinghy. Properly preparing the surface ( Ajax™ cleaner, then deep sanding, partially melting the surface with toluene). resulted in excellent adhesion to a joint that has lasted for over 12 years (2-part adhesive)
SEA GLOW™, Then SILKENSEAL™
At left: A hypalon inflatable seam after 7 years soaking in NEUTRAL CLEAR™ Cleanser-Conditioner .Also shown is a blue vinyl glued seam after almost one year of similar soaking.A video on inflatable dinghies is show below.