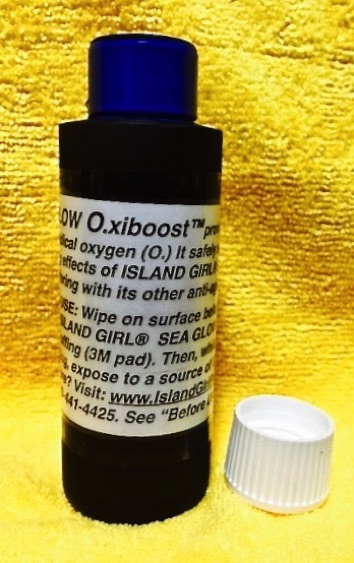 SEAGLOW O.Xiboost provides a gentle source of free radical oxygen (O.) that is carried into rubber & plastics by constituents of regular SEA GLOW™.
It accelerates the anti-yellowing and whitening effects of SEA GLOW™ without interfering with its other anti-aging properties.
It contains a very weak and safe solution of Hydrogen Peroxide that is protected from breakdown by the black container.
Wipe on the surface just before application of genuine ISLAND GIRL® SEA GLOW™, followed by gentle scuffing of the surface (3M pad).
Then, while avoiding overheating, expose to a source of UV (daylight or UV lamp).
On NEW ITEMS, use SEA GLOW™ alone or as part of our "New Shoe Kit" that also contains surface protectants
This product is now available in our online store, both as an individual item, or as a free companion product with single bottles of our classic SEA GLOW™
Click HERE for testimonials.