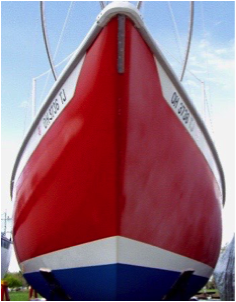 71. Thanks for checking in on us. We've already used the product and look forward to seeing how it holds up this season. She goes in the water in a few weeks.... Thanks. Attached are "before" and "after" pics One side treated (STARBOARD) and one side not). We will check in next season.
Tim Fox 1975 27 ft Erickson Sloop, Lake Erie, Catawba Island. June 2007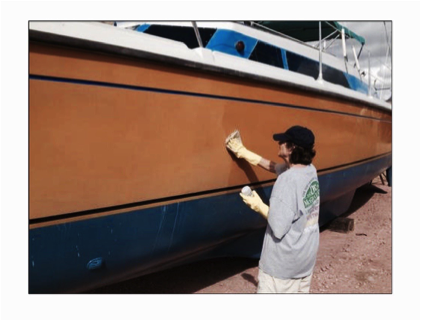 100 Dear Anthony, I just got finished with the boat prep for the season down here in sunny Sonora Mexico. I have used your produces almost every year since 2007 (see testimonial # 68 above). This has got to be one of the harshest summer environments around. Once again the "Hawaiian 2-Step Process" brought the boat back to beautiful condition. This year I noticed once again how the gel coat has improved over the years of using your products. Not much oxidation on the application of the ELIXIR™ and the whole project went faster than last year. I attached a photo and maybe you will notice the reduced difference between the "before" and "after" areas compared to photos from previous years. There is definitely less of a marked difference between the area with the ELIXIR™ applied and the  untreated areas - less oxidation!  It's kind of like I have suspended aging of the gelcoat. Yes, 30 years and still no paint! I only wish I had discovered your products sooner. Keep up the good work. Sincerely, Paul Hebert November 25th, 2015 (Customer since 2007).
57. "The non skid product worked great and looks good. I am introducing your products to a friend who needs to restore an old red fiberglass boat." - Bob Kubasiak, May 2nd, 2005
58. NEW BOAT! "Oh, yes, we've used the items. Our boat looks great! We used MIRROR HARD Superglaze™ for the first time last season on our NEW boat. The boat was hauled and semi-covered over the winter. This spring the dirt just washed off with very little scrubbing. We were impressed. We then applied another thin coat of MIRROR HARD Superglaze™ on the hull and topsides. We have a Hunter 356 and in one weekend the exterior was cleaned and protected. Fantastic. Without Island Girl products we would still be polishing and waxing. I would like to use the non-skid sealant but I think I have the older formula which came with my new boat kit purchased 2 years ago. The bottle does not have the red dot on the cap. Is this the older formula? Thanks again." - Kris & Ron Hoile, Hunter 356 2003, Stafford, VA., April 13th, 2005
59. " I've been using IG Products now for a number of years and I've been completely satisfied with the outcomes. What really was the deal breaker for me being a complete skeptic on just about everything was that I took my 1982 Hunter 33 and did one side of it with the 3M® product and the other with IG, At the end of the season (northeast) the water stopped beading on the 3M® side of the boat while the IG side was still very good. The following season I did the 3M® side with IG and went over the original IG side again and doing the IG side again was noticeably easier than the 3M® side – a big plus for me because I really don't like this type of work. One other thing I noticed was that every year mold spores used to form on the gelcoat under the dodger where not a lot of sun hit. Using the IG System, that didn't happen. Again being the skeptic that I am I contacted IG and Dr. Willis told me that the product was a gelcoat sealer and prevented moisture from getting in the pores of the gel coat, which is where the mold grows. I don't know if that's the case but I don't have mold spots anymore. One last thing - I got a complement on the boat the other day. They said that the hull looked great for a 23-year-old boat. That says it all. I don't work for and this is not a paid announcement for IG. Just a satisfied consumer." - Dave Johndrow, 1982 Hunter, Bristol, CT., September 30, 2005
60. "I would like to take a moment and let you know my thoughts on the Island Girl Product. It was around twelve years ago and we had lived in Foster City California at the time, Which is in direct path with San Francisco Airport. I had uncovered my boat and that evening a plane had miscalculated its drop of fuel which went all over Foster City as well as my boat, I was furious. There were these brown spots all over the whole boat and Vinyl. That next day my wife and I after trying just about everything were exhausted we were in the California Delta in Discovery Bay and I had asked the gentlemen at the boat shop if he knew of anything that can get Gas off of the Vinyl and Gel coat. He then told me about Island Girl. After he showed us a quick demonstration of the product we bought some in matter of fact I bought multiple bottles. We set out for a day on the Delta and My wife and I decided to anchor the boat and try this new product. Within about two hours we were done and the boat had looked brand new. When we got back to our port the harbor master had asked me if I had the boat redone I told him: " yes with Island Girl".
Since then I have told just about everyone I know about this product, but until you use it for yourself you have no idea of its tremendous power. I recently bought a Wave runner and the vinyl on this is faded so I bought more product direct from online. Once I get the product and use it I am sure that I will be able to give another recommendation for Island Girl. Thanks." - Shaun C. Sanassarian December, 2005
61. "I did receive the product and like last time, the product is incredible. I have a 12 year old Wave Runner that I just bought and the vinyl and Gel coat were faded. Within about one hour, the wave runner looks great. The previous owner thought that I went out and had the upholstery redone he could not believe it. Once again thanks Island Girl." - Shaun C. Sanassarian February 2006
62. "Anthony, I did receive the SEAGLOW™ and the SILKENSEAL™ and thank you for your help on the phone and the sample of SIMPLY BRILLIANT Superwax™. I used the products on the weekend and my 1972 Glastron Carlson CV 16 looks great. The metal-flake gelcoat (gold) on the decks finally has some luster and the white topsides certainly are much whiter. The products really seem to spread a long way and are very simple to use. I can't wait to try them on my much newer Celebrity Crownline (Mostly white with some blue trim). Are your products sold at any retail stores in Canada or are you strictly website based? I'll be ordering some SIMPLY BRILLIANT Superwax™ soon." - Bruce Garbutt Winnipeg, Canada, July 2006
63 "Anthony, I'm very happy with IG products. In fact, I sent you an email several months back asking about being a distributer, but you never responded. I'm still very interested!! In addition to sales, I think I could help in the marketing area as well. I've got a 20 year old Beneteau 310 sailboat and have used all of your products in my efforts to restore this older boat to its original glory. The best testimonial for how good your products are came from a pair of young girls. Their father had just pulled his Catalina 32 out of the dock and was passing behind my slip to reach open water. I had just used my new shipment of IG products to clean and wax my boat's transom the weekend before this and was leaning over to inspect the results. As they passed, one of the girls remarked, "That's a beautiful boat, I wish WE had a BRAND NEW boat like that." Our boat is already 5-years old! Needless to say, I spent the rest of the day using your products on the remainder of the boat. My most impressive use was on a polished aluminum table support. Years of oxidation had taken their toll. I first tried an aluminum polish, but was not very impressed with the result. I then used ISLAND GIRL® Pink™ Cleansing Lotion and the result was incredible. I went on to seal it with ELIXIR™. In bright sunlight, this thing will blind you now! Regards." - Steve Mayo, President of Emissary International, Austin, TX., February 19th, 2007
64. "Hi Anthony,I just received the SEAGLOW™ - you had sent me the ELIXIR™ previously, and it works great, but I was going through it so quickly with all of the oxidation, so thought maybe I would take all of the heavy stuff off with the SEAGLOW™.  I love the 'Pink!'  Your products and service are the best!!!  Thank you so much!!!  Take care! The ELIXIR™ is great!  We have a Hunter 170 ACP hull that was more oxidized than we thought, so we used the SEAGLOW™ initially and touched up with the ELIXIR™  We love your products and tell everyone who admires our new looking boat about your products!  Thanks!" - Debbie Williamson, May 31st, 2006.
65. "I'm very pleased with your products. My project was a heavily oxidized, black, 20 foot, Supra ski boat that I've had since purchasing it new in 1985. After failing to rejuvenate it with tons of elbow grease, hours of time, and a multitude of your competitors products, I decided to give Island Girl a try. Application was easy, and in a couple of low effort hours, I had results that exceeded my expectations. I left a 'before' section, below the swim deck, in its original 'chalky' condition as a counterpoint to the new, deep black finish Island Girl brought out in the remainder of the boat. I'll take a picture of the 'before' and 'after' sections and send it to you. Thanks for a great product." - Ken P. February 9th, 2007
66. "I am perhaps one of your best testimonials. I'm in my fifth year with Island Girl. Ease of application is fine, catalyst helps. Instructions are way too complicated, need severe editing. I love Island Girl for its ease, shine and durability. Surfaces are holding up great." - Bill O'Donovan Tidewater, VA., January 17th, 2007
67. "I received your product(s) recently. Thank you very much for including the spray bottle of sealer, it really makes things look new. After the initial application to my unweathered 30 year old after-market 1-piece molded motorcycle seat- I'm impressed! It is definitely softening the material. I used a 3M automotive scuff pad prior to the first application to open up the
shiny black surface. I don't know if repeat applications are recommended but I'm doing it anyway, letting the NEUTRAL CLEAR™ soak in as much as possible before wiping the excess off. One question on the invoice there was a notation recommending to 'use vinyl paste on cracked area.' I went back to your website but did not find a product like this listed. Do you handle this or can you recommend a good quality paste and maybe a website that sells it? Thanks again. PS- No charge for the testimonial." - Dave Faehling, May 13th, 2007. [Ed: Use Eclectic™, available from TAPPlastics.com for vinyl repair].
68. "Dear Anthony, I just got back from Mexico where I worked on my boat. I just wanted to say Thanks! for a great product line. I used the NON SKID SEALANT™ and the "Hawaiian 2- step process" (ELIXIR™ and MIRROR HARD Superglaze™) They worked great. I had quite a bit of fun with Hector who was helping me. We kept joking about new miracle chemicals since he was the one who helped me apply the acrylic product last year. Now he was helping me remove it to put on another chemical treatment. Well by the end of the job he had changed his tune and was duly impressed. The boat looks better than it ever has in the 10 years that I have owned it. And best of all, I know it is protected from further damage to the gel coat. Attached are a few photos I took of the orange gel coat before and after. Once again Thanks a lot for a great product." - Paul Hebert, March 19th, 2007
69. "Dear Doc. I used the IG on my 1984 hunter 31 my cousin is a clean freak and he said the boat looked wonderful "what ever you used what ever it cost it was worth it" I agree hopefully I have helped sell some of your product I tell everyone how great it is. I first used it on a 1999 MacGregor and loved it but it just made the oxidized fiberglass look like new on my hunter I did buy too many different products from you as I now know what to use. I still have not gotten to use the "Mirror Hard" but will do so in the Spring. Right now it is shrink wrapped for the winter up here in Indiana." - Keith, May 2007
70. "Greetings Anthony…
 I am in Seneca SC area and am a friend of Wayne Cook. He turned me on to ISLAND GIRL® Products. I live on Hartwell and numerous people have commented on how shiny my boat is and they are completely amazed when I tell them it is a 12 year old boat."
Bob McGurk
May 27th, 2007
72. NEW BOAT! " Still like new! NON SKID SEALANT™ and MIRROR HARD Superglaze™ applied on a four year old Beneteau 473." - Kevin Elders, July 27th, 2007. CLICK HERE FOR UPDATE !
73. "Here are some photos of the boat. 2005 & 2006 are treated with NON SKID SEALANT™. 2002 & 2003 is ELIXIR™ and MIRROR HARD Superglaze™. Great products! - it takes a long time to do such large areas on this boat, but worth the time it took with the quality of the finish." - Alan Edwards 'Double Agents' 1997 Silverton 372, Coconut Grove, FL., November 2007
74. "Used your product as a trial on a six foot section of four inch wide very faded dark blue sheer line stripe on a 20 year old Ericson 35 I just purchased. I was absolutely amazed how easily an original luster was brought back.  I look forward to doing the entire boat vs. having the yard charge me an arm and half a leg for their labor. Thank you, and a very good holiday to you all!  I will be back for additional products for sure." - Dave Scott, Central Area Sales Manager, Samsung Semiconductor Inc., Dallas, TX, December 2007
75. "Anthony, I read about your 2 part Elixir process in a boat magazine and decided to try it during the spring of 2007 haul out. I was very pleased with the results, the boat hull looked great. More surprising was how easy and fast the application was to apply, ( "Time in a Bottle"- no kidding! The time and effort saved was amazing over over standard clean and wax methods). I applied  the ELIXIR™ with a battery powered polisher then used SB-Catalyst to accelerate the drying of the MIRROR HARD Superglaze™ (It is cool in the spring in Canada so the SB Catalyst™ is advised). I was very pleased with the results on the topsides so contacted you at Island Girl and ordered some NON SKID SEALANT™ and more MIRROR HARD Superglaze™ to do the deck. I'm pleased with the results on the deck and will use the ISLAND GIRL® Pink™ Cleansing Lotion, NON SKID SEALANT™ and MIRROR HARD Superglaze™ for the yearly spring deck cleaning , sealing and waxing. I think I can get away with using MIRROR HARD Superglaze™ to touch up the topsides until the next haul out. Then I will use the ISLAND GIRL® Pink™ Cleansing Lotion and the ELIXIR™ system to do the topsides complete.  I recommend Island Girl to my friends and other sailors. This a great product system. Keep up the Good Work." - Graeme S.V. Electra, December 27th, 2007
76. "Dr. Willis, I used your products on a 1997 39 ft Silverton Aft Cabin. The boat had been neglected for several years and the gel coat was chalky. On a boat of this size it took several months to complete the task due to only working on weekends and around our weather. In the end the result was well worth the effort. I would both spend the time and money again. The customer service was very good. When I called with a question you called me back and explained the advantage of using two step process. I have shown several of my friend how Island Girl works and they were all amazed how easy it works and the results.
Here is the however, none of them maintain their own boats. They all hire someone to come and compound and wax it for them. If I were to be critical of anything it would be the names of the product and the directions. I watched every video more than once. They did help visualize and understand what should be happening. I will continue to purchase your products. I don't think there is not one I don't own. The glass product (CLEAR HORIZONS™) is used on my cars and my motorcycle windshield..." - Alan E., March 2008
77. "Dear Dr. Willis,
I am delighted to give you feedback on your products.  I have used the NON-SKID SEALANT™ and only did one side of my Gemini Catamaran to see if how it would work over time.  It has been a month and I can wash off the boat and where the non-skid sealant has not been used the water does not bead up and appears dirty.
Please let me know if we can help you in any way."
Dr. Teresa Ann Jacobs
March 14th, 2008
78 "I have received the ISLAND GIRL® products.  As we keep out boat in Anacortes, Washington, and the weather has been lousy, I have not had a chance to give everything a try yet. 
I did use SEA GLOW™ and SILKENSEAL™ on my helm seat and my wife commented on it looking whiter without knowing I had put anything on it.
I also used the ELIXIR™ and MIRROR HARD Superglaze™ on the Maroon stripe that goes around the outside of the cabin. One side of the boat gets a fair amount of sun and subsequent oxidation. The ELIXIR™ returned it to new condition.  The boat is a 2003 and has been waxed yearly, but the wax never removed the oxidation. 
As soon as I get a good day I am going to do the hull.  Half of the hull is maroon gelcoat and I can't wait to get the sun exposed gelcoat side looking like new again. 
Thanks for a great product!"
Don Kline, Belleview WA, April 21st, 2008
80. "Dr. Willis, after I spoke to you on the phone last year, I have since become a loyal user of most of your products.  I believe you were here for the Strictly Sail show in Oakland.  I live in Oakland, and keep my 1984 Hunter Legend 40 at the Oakland Yacht Club Marina in Alameda. Keep in mind that it has been a year since I used some of the products, but I turned my son loose with I believe the clear cleaner-sealant on my white hypalon inflatable.  We couldn't believe the difference. It looked new, and this past weekend I took it off of the davits to clean away the winter's grime and it only took my soft brush and suds to make it look new again. I recently bought the non skid deck sealer, but haven't had a chance to use it yet.  I do use the diluted pink cleaner now instead of Simple Green, and it works really well.  The MIRROR HARD Superglaze™ did an awesome job as well. Will you be at the Strictly Sail show this year?  There is a lot of construction going on at Jack London Square, and where the big tent was is now the framework for something really big.  They wouldn't allow Oakland Yacht club in with our booth because we didn't generate sales. Keep inventing those great products.  I was glad to find your newest product at Svendsens. - Jack Buday a.k.a. 'graphicmaniac,' March 31st, 2008
81. "In response to your e-mail, I am more than pleased with your products!  Our boat, a 10 year old, 40' Jeanneau, was purchased by us two seasons ago and was in dire need of some t.l.c.!  After a lot of interior work and an AwlCraft paint job on the hull she looked fabulous except for the decks and cockpit.  None of the products we tried really gave back the life she needed.  After using your ISLAND GIRL® Pink™ Cleansing Lotion, NON SKID SEALANT™ with catalyst and MIRROR HARD Superglaze™ she shines, repels water and is a lot easier to keep clean!  I found the instructions, both written and video, very easy to follow and the application of products was easier to apply than other products I have tried.  Applying anything over 40 feet of boat is a time consumer. However, the end result after using ISLAND GIRL® is worth every minute and tired muscle. People have commented on how fabulous the boat looks and I tell every one they need to buy your products.  I don't know if any one has taken my advice yet, but they should and buy lots of Island Girl Products!  Thank you for such a treat for our boat! I will definitely be purchasing more product to keep 'Lolite' looking and feeling beautiful!" - Kathryn W. Kyle, May 28th, 2008
82. "I found the application of all products to be as described, and the 'easiest' of any competing products.
I am evaluating the results as the vessels I used the products on are in the tropics and have about three months passed since application. At this point I am very happy with the performance.
I found the instructions confusing, largely as a result of some overlap in application".
Tim Boehike
Feb 18th, 2009
83. "Greetings Doc.
Yes, your products have demonstrated their effectiveness.
I have a 46' Wellcraft CPMY, and your ISLAND GIRL Pink™ is the only product that removes "rain stains".  The boat is kept on Boca Ciega bay behind the house, and we're situated under one of the approaches to Tampa International Airport.
The combination of jet exhaust, mixed with rain, creates disgusting blackish stains.  Previously I tried soft scrub, polishing compound, greased lightning, and more!  Your "pink" does the trick with one swipe, I use an "eraser" as applicator."
Emmett Coe
March 2rd 2009
84. "Hi:
I used your product to restore the faded striping on my Baja Outlaw which is a 96 model, I would have never believed these stripes would ever come back. I used your 2 step process and was shocked - it made them look like new!  Although a time consuming process, a year later they still look good and they are exposed to afternoon direct florida sunlight."
Mike Panny
April 14th, 2009
85. "Dear Sir: I have just removed the storage cover from our sailboat and started the spring clean-up for the summer season. The boat had all the usual dirt but with a quick scrub with my deck brush and some cleaner, it looked as good as it did when we completed the original application of the products last spring. Our boat is a J-80 with the sand style non-skid surface. I will be touching-up a couple of areas with SEA GLOW™ and re-sealing those areas. All in all I am very impressed with the way your product works. It was a very laborious process, and more expensive than I had planned, but it was worth it. "
Michael J. Daly
S.V. J-Hawk
April 21st, 2009
86. "Hi: I sent four photos of the boat red color on the sides. The ELIXIR™ did a great job on the cream color and the red right after I put it on but the red fades within a few days. I have put it on 4 time in the last two months and the color fades with a week of setting beside my house. It is shaded on both sides so the sun normally does not hit the sides. I normally use the boat in both salt and fresh water." [Ed: See later testimonial #93 for updated photo]
 Thank You
 Steve Wichman
April 22nd, 2009
87 "Dr. Willis -
 Yes, I'm very satisfied with the way ISLAND GIRL® cleaned up my boat's topsides.  Due to various factors I wasn't able to apply it until about 4 months ago.  It removed the chalky oxidation and really shined up my boat (which is a dark, forest-green color).  It's held up well since.  I didn't yet use the MIRROR HARD Superglaze™ or any other topcoat as I thought I'd reapply it after 6 months or so and then topcoat it.  That's still my plan although I'll probably wait until fall for the second treatment, so the weather will be cooler.  I've still got a bunch of product left, it took very little to do the boat (23 foot ); and while I was skeptical about just using paper towels to apply and buff, that's what I did and it worked as advertised.  Thanks for your follow-up."
 Mike Turner
Rob Roy 23 "Fiddlestix"
Mobile Bay, Alabama
May 13th, 2009
88 'Hi Island GIrl:
I've been a devout customer for over eight years now and although I love your product and would never use anything else I think it would be great if you would reward your long time customers with some type of discount or freebees on occasion.
Thanks"
John Thorpe, June 16th, 2009
89. "Doc
I love the SEA GLOW™ and how it makes my boat look. I have experimented a bit and cleaned the entire deck and cabin top with SEA GLOW™ and sealed it with SILKENSEAL™ I then put MIRROR HARD Superglaze™ on one side and Finish 2000™ on the other.  I will see which holds up best. The biggest issue I have is the black streaks and cleaning them. But as I said I love ISLAND GIRL® over all. I am just trying to find the best combination of products for me. We are in the Great Lakes so we get a partial season and a lot of sun, then cool nights and dew. Keep up the good work."
Keith Engstrom
July 1, 2009
[Ed: You can see comparison of the two products in Practical Sailor, by clicking HERE]
90. "Dr. Willis:
I tried your products on the recommendation of a friend.  I operate my boat in northeastern North Carolina on a freshwater river that has been turned brown by the tannin produced by cypress trees.  
After I used your product, which applied and removed easily as advertised, the hull looked brand new.  I applied it to the racing stripes down the side and restored them to like new appearance.
The only complaint I would have, and it's minor, is I forgot which liquid did what and the attached labels didn't provide much clarity.  I went back to the web site to get things straight.  I don't make a big deal of it because I'm known for misreading things."
Bob, August 17th, 2009
91. "Hi: I have used you product now for 2 years.  I ordered more ELIXIR™ and MIRROR HARD Superglaze™ this year.  My boat is 1973 (30 foot sailboat) and suffers from Crazing.  I have wanted to try everything I can before resorting to new paint.  I can say that your product has worked very well for her.  This summer I applied ELIXIR™ and removed the surface of the gelcoat using very light sandpaper (on foam pads) instead of the 3M pads. I was very pleased with the results.  Much of the crazing has disappeared.  Hopefully..another try next year will bring her back to new."
Brian Corbett
Sept 28th, 2009
92. "Thank You so much for your product:
I bought my first sailboat last year and at 30 years old she looked her age. Old, faded and stained. 
After much research I decided to try your GelCoat Restoration products and the results are nothing short of amazing.
Pictures speak more than words, you are free to use my pics for promotion.
BTW: Your system worked even in our colder Nova Scotia spring."
Peter R Gravel
S/V Huntress
93
Hi:
I think your products are really great. I have had some of my co-workers purchase the product for their boats and they love it. The shine on my 1986 Sea Ray Sundancer is still glowing. The red is still more hard to come alive as the cream color is but with a small amount of the ELIXIR™ the color comes back for a short period [Ed: Each treatment with ELIXIR™ will give cumulative effects on color preservation]. The overall products are easy to use and really brings the life 93 out.
 Thank You
Steve Wichman
Jan 11th, 2010
94
Hello Jim:
Thanks for asking about how the system was holding up on our boat. We used your NON-SKID SEALANT™ in 2001 and I was one of the first two customers of your MIRROR HARD™ Superglaze product, I remember you even modified the formula for me to produce faster setting times (see testimonials #20 and 21 above from Nov 2001). Well we finally did sail off and cruise the Caribbean. I sold Carolina in 2009 and she still looked so good that the first person who came to see her bought the boat!
We now live in Georgia and I may be interested in a distributorship.
Thanks for remembering me.
Mike Pilolla, June 17th, 2013.
95. Aloha Dr. Willis:d
This is Joel Glenny.. My family and I sailed the Pacific on S/Y Kairos. Youi may remember that some years back we kept our boat at Ko Olina in Hawaii and we used the Island GIrl System to detail our boat. Anyway, we have always promoted your products as "one of a kind" superior. We are currently in Palau, making our way around the world.
Cheers, Joel (November 26th, 2013)
96. Blue Gelcoat Hull Restoration, ISLAND GIRL® Before and After ( postrs on RInker Owners Club Forum.
Hull had not been waxed for 10 years. Posted April 2nd, 2013
97. I use IG pink for all sorts of boat problems. Stains and removing caulk in particular. Great stuff!
Patrick France
PF Custom Marine, January 2014
98. Hullo Dr. Willis:
My Hunter is requesting another coat or your magic juice! My first application (ELIXIR™, then MIRROR HARD™) was touched up (MIRROR HARD™ at one year). It looked good for 5 years, but now needs reapplication at 7 years.
Mike Cathcart, April 4th, 2014
99. Our boat, which had a very chalky appearance on the gelcoat now looks like new, due to our recent restoration with ELIXIR™ and MIRROR HARD™ (your "2 -step process"). Regular shop-bought products were inneffective by compariison.. Thank You! Bill and Marilyn Hayden, April 2014.
101. NEW BOAT!
Dear Anthony: I first purchased the ISLAND GIRL™System in 2002 via the online store at Sailboatowners.com. I used the resin-based coating (MIRROR HARD™)
system on a brand new Hunter 410, using water-diluted ISLAND GIRL Pink™ for routine cleaning and maintenance of the finish. We maintained the boat this way for over ten years,
which kept its "as new" finish. Only once did we use abrasive compoundng to remove some deep scratches in the gelcoat from a docking incident.
In 2010, I bought a two years old white Oyster 54ft Sailboat. This yacht was also maintained by the ISLAND GIRL® "2-step process" (ELIXIR™ and MIRROR HARD™).
My most recent purchase of product (ELIXIR™and IG Pink™) being this April (2016). Clearly, the protective effects of these products lasts for years.
Sincerely, Arthur Auclair, Salem NH, May 2016.
102 Hi Anthony:
I first Purchased ISLAND GIRL® products in 2002, via sailboawners.com. I first used them on my white 1979 Pearson Sailboat and have used them ever since.I was one of the first customers to use your NON-SKID SEALANT™ which I have continued to use to this day. The most remarkable thing I noticed was that when it rained the decks looked cleaner since most dirt does not stick and just washes off.  Even better, bird droppings can just be hosed off!  I also highly recommend the SEA GLOW™ and SILKENSEAL™
products that I use on my white plastic and rubber surfaces, including the rub-rail.  These products are so easy to use while uniquely  effective at both removing and preventing surface yellowing. Sincerely, Steven R. aWde, Mamaroneck NY, May 2016
104. NEW BOAT and RV !
Dr Willis: Back in 2001, I purchased a full kit of your products for my 1982 Capri 25.   The original orange gelcoat had become very pale due to deep oxidation.  I restored the hull back to its very bright orange beauty.   Once restored, it was only an annual update to keep it looking great.   In April 2012, I sold this boat and started RVing with a brand new 17 ft Casita to which I  applied SIMPLY BRILLIANT Superwax™ to its fiberglass gelcoat exterior.   It kept this trailer as new for over four years until I sold it for more than its cost when new.   I credit my knowledge and use of ISLAND GIRL® Products for keeping the fiberglass looking like it came from the factory!  
I recently upgraded to a brand new Escape 21 RV and just received my new order of MIRROR HARD Superglaze™ to apply to my new RV fiberglass to keep this trailer looking new for many years to come. Your products will always continue to be my 'go to' tools for keeping my fiberglass toys always looking great!   
Feel free to share my experiences as I have been an ISLAND GIRL® fan and user for over 15 years!
Gary Coverdale, Placerville, CA and South Lake Tahoe, CA May 2016 
105.  Dr. Willis:
I have been using you products over the last 6 years,  ordering every 2-3 years because the protection lasts so long!
I have a 1989 Nonsuch 33, whose mid grey gelcoat looked so bad that the Yard Manager recommended painting with LPU or redoing with sprayed on gelcoat. Instead I tried your "Hawaiian 2-step process" of ELIXIR™ (to remove and prevent oxidation) with an outer coating of MIRROR HARD Superglaze™ (for additional shine and protection). 
The results were astounding with an almost "as new" finish that really surprised the Yard Manager. I was also glad to confirm your claim of 3 years of water beading.
I have continued to maintain the hull with these products but I was also impressed by the ability of SEA GLOW™ to restore original whiteness to the rub rail, that I  sealed with SILKENSEAL™. I saw similar rejuvenating and anti-aging effects on a hot tub cover in our vacation property in the Caribbean.
Your Sincerely, Frank Borzenski, Old Saybrook CT. May 2016
106. Hi Dr. Willis: Love your products! I would rather be sailing than working on my boat and your easy and quick to apply "2-step gelcoat system" instantly hides most scratches and creates an admired mirror shine, that lasts for many months. It is far superior to other products I have tried. 
Sincerely, John Wurdeman (Customer since 2007) Charles City, May 2016
107. Hi again Anthony: I have enclosed a couple of pictures showing how ELIXIR™ and then MIRROR HARD™ provided the finish you see. The boat is a 1984 Sea Sprite 23 that I have owned since new.  I have used your products since 2009 and they provide the ONLY WAY I can restore deep color and shine for each season.
 I was thinking as I was using your products what will happen if you go out of business?  I may have to sell my boat!
 Sincerely Paul Lambert, West Falmouth, MA.  May 2016
108. Dear Dr Willis: I have an  31ft Contest white sailboat built back in 1973, whose gelcoat deterioration has been stopped by your product system. 
As you know, I have used your ELIXIR™ with the "Hawaiian 2-step system" since 2007. It not only removes and prevents early return of chalking but also seems to stop and repair the minor crazing of the gelcoat that was previously troubling to me and could only be removed by wet sanding. 
That I order every 1-3 years testifies  to the the longevity of the restorative effects of your products.
Sincerely, Brian Corbett, Winthrop MA, June 2016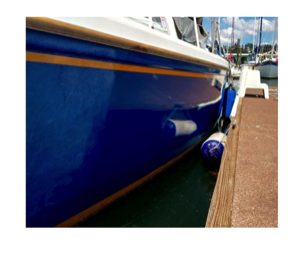 103. Dear Anthony: I purchased ISLAND GIRL™ products in 2002 to restore my dark blue 1975 Catalina 27 sailboat. This was the original "3-step system" with an outer coating of MIRROR HARD Superglaze™ . Three years later, I re-ordered these products and again used them with very good results. Then in 2010, I ordered the "2-Step Kit" of ELIXIR™ and MIRROR HARD™ . However, I am only now (May 1016) using the products, after ignoring maintenance of the boat for more than 8 years. As you can see, the gelcoat surface has again come up "as new". This was done with very little effort, perhapls due to residual protection from the previous applications of your product system. Not only are the protective effects of your products long-lasting but so is the shelf life! Sincerely Geoffrey Jackson Federal Way, WA, May 2016
56. "Hi Dr. Willis: Nice talking with you about my West White Potter. As I mentioned your products came through amazingly. I was all but ready to give-up and decided I would go through whole process with stern of boat - about 1 third. Bang! Out came the yellow! Couldn't wait to finish the rest. The picture I sent needs explanation once I started on the starboard side I started at stern and worked forward BUT then I decided I would do the bow too and work toward the stern. Thus you will see bow and stern sections done with midship area oxidized. The whole hull was oxidized like the picture midship. Anyway can't wait to get in water. I WILL be buying more. Thanks for talking me into the SILKENSEAL™ and throwing in the SIMPLY BRILLIANT Superwax™. It made ALL the difference." - Allan Reed, Glen Arbor, MI., June 27th, 2005
55. From the many boats detailed by "Island Girl Caribbean". - Terry Hudson June 2005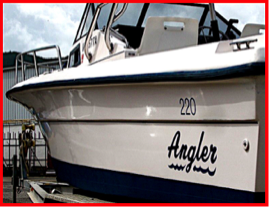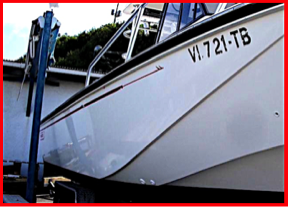 51. "Well Dr. you sure don't owe me now... I found my first order box stuck in my little lido sailboat, put there by the postman who didn't even tell me he had done so. Usually I get a note from him that says you have a package that I stuck out under the boat cover but this time I got nothing. I went down and washed and treated our boat today and attached are some photos. I will send more when I do the non-skid areas too. Our catamaran is 10 years old but looks new because of The Island Girl Treatment. Its so hard keeping a boat looking great using waxes and other store bought treatments. You work so hard to get it nice, then within several months you get to do it all over again. Your Island Girl Products have made keeping our boat looking great real easy. The initial treatment was quite a job but the results are more than worth the effort. I am so glad someone told me to try them. Its been over a year now and she looks great and still beads water. I can now keep our boat looking new with just a little effort. Thanks! Here are the pics (below)!" - Dave Sandwell San Diego, CA, Windsong 47' Mayotte Catamaran, 2004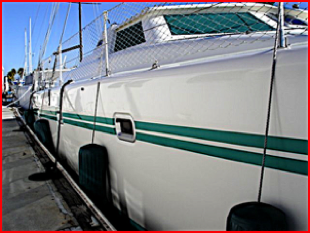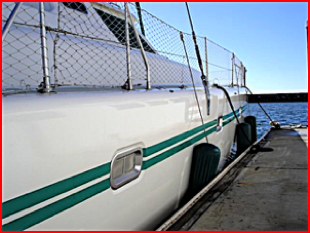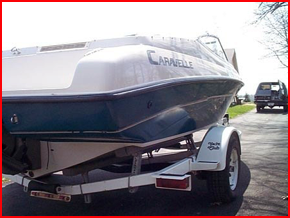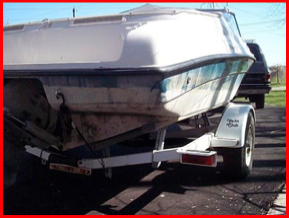 32. "I have been using Island Girl products for the last 2 years on my (now) four year old Catalina. I always get comments that it still looks brand new. I thought SIMPLY BRILLIANT Superwax™ was good; Jim's new product, MIRROR HARD Superglaze™ is even better. Two seasons ago I used ISLAND GIRL® Pink™ Cleansing Lotion to remove the old wax and dirt, then used SEAGLOW™ to remove any remaining dirt and stains (also used SG to remove the dealer decals which exposed the original gelcoat color). The SEAGLOW™ restored the surrounding gelcoat to within a shade of the original white color. I wonder what would happened if I left it on longer. Since it was a fairly new boat I applied two THIN coats of the SIMPLY BRILLIANT Superwax™, skipping the SILKENSEAL™ step. However, my buddies with older boats says that SILKENSEAL™ is necessary on boats with porous gelcoat. By the way, all my neighbors on my end of the dock are now using IG and are experimenting with ways to use IG products. I have had good results with the SIMPLY BRILLIANT Superwax™. However, I would get black streaks from airplane exhaust and other air pollutants. These streaks would appear everywhere I had runoff although with the Superwax it was not as bad. I would simple remove the black streaks with diluted spray bottle of ISLAND GIRL® Pink™ Cleansing Lotion and some scrubbing. This would remove most of the streaks. A year later the fiberglass was still shiny, so I just used some diluted Pink on most of the surface and full strength with an "000" pad on the stubborn stains. Then got out the old roll of paper towels and applied a single coat of MIRROR HARD Superglaze™ . It is amazing stuff! Not only is it shiny, water beads up and rolls off like it was a mirror. This is the only way I can describe it. Now I only get black streak run-off under the dodger - nowhere else, and it is so easy to remove the streaks by using highly water-diluted ISLAND GIRL® Pink™ Cleansing Lotion (a very pale color) and a microfiber cloth. Another exciting benefit is how easy it is to remove the bird dropping stains by just hosing off. It has been four months now and the boat still looks great: no deterioration in the protection and it still beads up water. To shine it up, I just simple wipe the surface with a microfiber cloth." - Duane Maher Review Island Girl Cleaners at Sailboatowners.com. Owner 1999 Catalina C380, Chesapeake Bay, MD., July 24th, 2002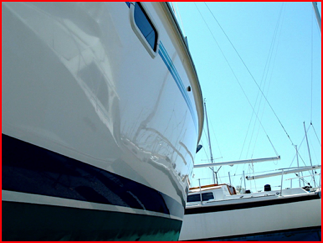 PROTECTION OF NEW BOATS & RVs, RESTORATION OF OLD BOATS & RVs. MORE...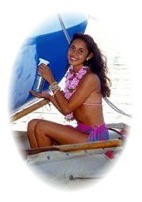 OR     Call Toll Free: 1-800-441-4425