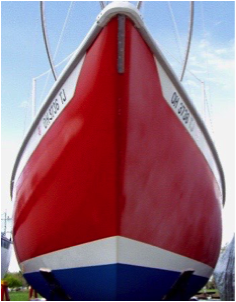 71. Thanks for checking in on us. We've already used the product and look forward to seeing how it holds up this season. She goes in the water in a few weeks.... Thanks. Attached are "before" and "after" pics One side treated (STARBOARD) and one side not). We will check in next season.
Tim Fox 1975 27 ft Erickson Sloop, Lake Erie, Catawba Island. June 2007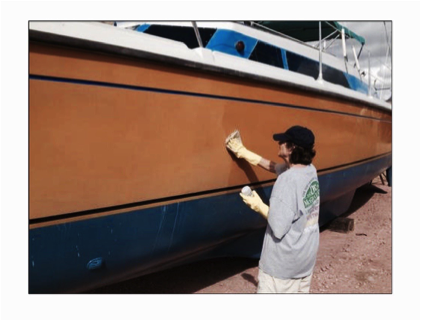 100 Dear Anthony, I just got finished with the boat prep for the season down here in sunny Sonora Mexico. I have used your produces almost every year since 2007 (see testimonial # 68 above). This has got to be one of the harshest summer environments around. Once again the "Hawaiian 2-Step Process" brought the boat back to beautiful condition. This year I noticed once again how the gel coat has improved over the years of using your products. Not much oxidation on the application of the ELIXIR™ and the whole project went faster than last year. I attached a photo and maybe you will notice the reduced difference between the "before" and "after" areas compared to photos from previous years. There is definitely less of a marked difference between the area with the ELIXIR™ applied and the  untreated areas - less oxidation!  It's kind of like I have suspended aging of the gelcoat. Yes, 30 years and still no paint! I only wish I had discovered your products sooner. Keep up the good work. Sincerely, Paul Hebert November 25th, 2015 (Customer since 2007).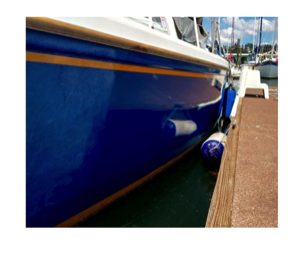 103. Dear Anthony: I purchased ISLAND GIRL™ products in 2002 to restore my dark blue 1975 Catalina 27 sailboat. This was the original "3-step system" with an outer coating of MIRROR HARD Superglaze™ . Three years later, I re-ordered these products and again used them with very good results. Then in 2010, I ordered the "2-Step Kit" of ELIXIR™ and MIRROR HARD™ . However, I am only now (May 1016) using the products, after ignoring maintenance of the boat for more than 8 years. As you can see, the gelcoat surface has again come up "as new". This was done with very little effort, perhapls due to residual protection from the previous applications of your product system. Not only are the protective effects of your products long-lasting but so is the shelf life! Sincerely Geoffrey Jackson Federal Way, WA, May 2016
56. "Hi Dr. Willis: Nice talking with you about my West White Potter. As I mentioned your products came through amazingly. I was all but ready to give-up and decided I would go through whole process with stern of boat - about 1 third. Bang! Out came the yellow! Couldn't wait to finish the rest. The picture I sent needs explanation once I started on the starboard side I started at stern and worked forward BUT then I decided I would do the bow too and work toward the stern. Thus you will see bow and stern sections done with midship area oxidized. The whole hull was oxidized like the picture midship. Anyway can't wait to get in water. I WILL be buying more. Thanks for talking me into the SILKENSEAL™ and throwing in the SIMPLY BRILLIANT Superwax™. It made ALL the difference." - Allan Reed, Glen Arbor, MI., June 27th, 2005
55. From the many boats detailed by "Island Girl Caribbean". - Terry Hudson June 2005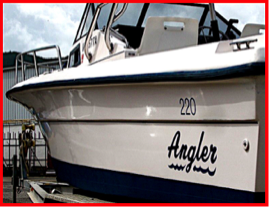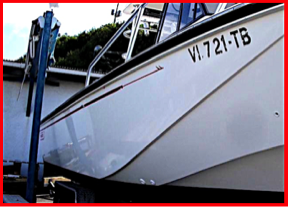 51. "Well Dr. you sure don't owe me now... I found my first order box stuck in my little lido sailboat, put there by the postman who didn't even tell me he had done so. Usually I get a note from him that says you have a package that I stuck out under the boat cover but this time I got nothing. I went down and washed and treated our boat today and attached are some photos. I will send more when I do the non-skid areas too. Our catamaran is 10 years old but looks new because of The Island Girl Treatment. Its so hard keeping a boat looking great using waxes and other store bought treatments. You work so hard to get it nice, then within several months you get to do it all over again. Your Island Girl Products have made keeping our boat looking great real easy. The initial treatment was quite a job but the results are more than worth the effort. I am so glad someone told me to try them. Its been over a year now and she looks great and still beads water. I can now keep our boat looking new with just a little effort. Thanks! Here are the pics (below)!" - Dave Sandwell San Diego, CA, Windsong 47' Mayotte Catamaran, 2004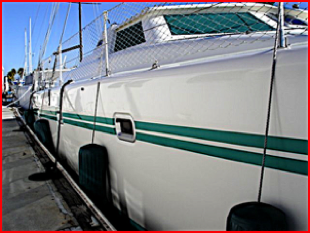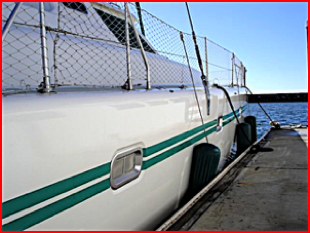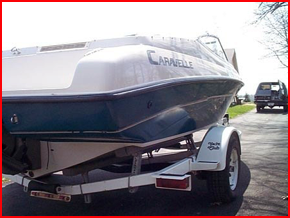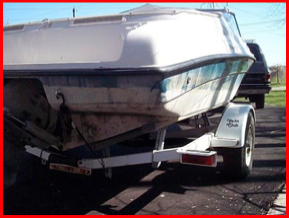 32. "I have been using Island Girl products for the last 2 years on my (now) four year old Catalina. I always get comments that it still looks brand new. I thought SIMPLY BRILLIANT Superwax™ was good; Jim's new product, MIRROR HARD Superglaze™ is even better. Two seasons ago I used ISLAND GIRL® Pink™ Cleansing Lotion to remove the old wax and dirt, then used SEAGLOW™ to remove any remaining dirt and stains (also used SG to remove the dealer decals which exposed the original gelcoat color). The SEAGLOW™ restored the surrounding gelcoat to within a shade of the original white color. I wonder what would happened if I left it on longer. Since it was a fairly new boat I applied two THIN coats of the SIMPLY BRILLIANT Superwax™, skipping the SILKENSEAL™ step. However, my buddies with older boats says that SILKENSEAL™ is necessary on boats with porous gelcoat. By the way, all my neighbors on my end of the dock are now using IG and are experimenting with ways to use IG products. I have had good results with the SIMPLY BRILLIANT Superwax™. However, I would get black streaks from airplane exhaust and other air pollutants. These streaks would appear everywhere I had runoff although with the Superwax it was not as bad. I would simple remove the black streaks with diluted spray bottle of ISLAND GIRL® Pink™ Cleansing Lotion and some scrubbing. This would remove most of the streaks. A year later the fiberglass was still shiny, so I just used some diluted Pink on most of the surface and full strength with an "000" pad on the stubborn stains. Then got out the old roll of paper towels and applied a single coat of MIRROR HARD Superglaze™ . It is amazing stuff! Not only is it shiny, water beads up and rolls off like it was a mirror. This is the only way I can describe it. Now I only get black streak run-off under the dodger - nowhere else, and it is so easy to remove the streaks by using highly water-diluted ISLAND GIRL® Pink™ Cleansing Lotion (a very pale color) and a microfiber cloth. Another exciting benefit is how easy it is to remove the bird dropping stains by just hosing off. It has been four months now and the boat still looks great: no deterioration in the protection and it still beads up water. To shine it up, I just simple wipe the surface with a microfiber cloth." - Duane Maher Review Island Girl Cleaners at Sailboatowners.com. Owner 1999 Catalina C380, Chesapeake Bay, MD., July 24th, 2002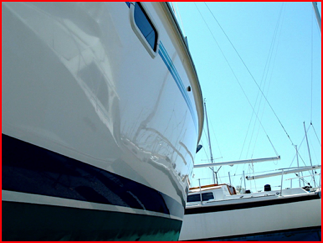 PROTECTION OF NEW BOATS & RVs, RESTORATION OF OLD BOATS & RVs. MORE...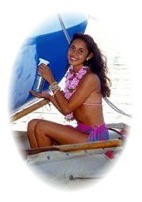 OR     Call Toll Free: 1-800-441-4425