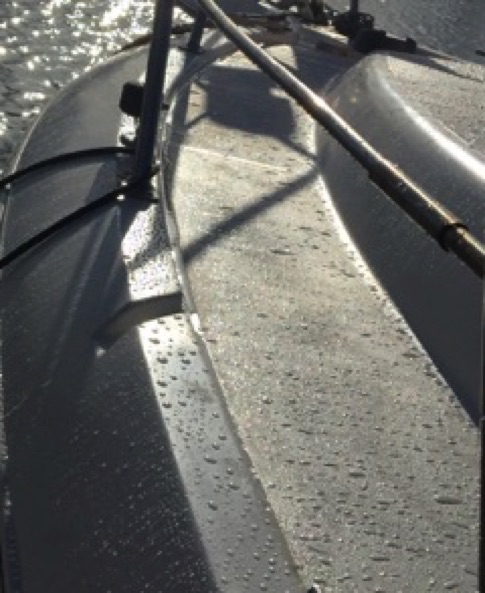 SMOOTH GELCOAT AREAS
ELIXIR™ was worked into the surface , using 3M scuff pads (000 grade) by hand or using a Black & Decker® Mouse orbital sander. Dissolved oxidation was then removed by white paper towel. The process was repeated until all oxidation was removed. The ELIXIR-treated surface then dried to form a semi-gloss resin/wax - based coating.
Then 3-4 coats of our NON-SLIP Superglaze™ was applied and the completely dried shiny surface gently rinsed with water and wiped dry with microfiber cloth.
NON-SKID AREAS (embedded grit type)
The surface was deep-cleaned using a deck brush, AJAX® (abrasive cleaner with bleach component) and some expired SEA GLOW™ (we sell as "industrial Cleanser" that still has fluorescent whitening properties.
The deck was then water-rinsed and towelled off. While drying, exposure to sunlight made the decks brilliantly white.
Then two coats of our NON-SLIP Superglaze™ were rubbed into the gritted areas & excess removed with dry microfiber cloth. We avoided walking on the deck (with shoes) while the coating was still drying. Lastly ths deck was gently rinsed with water to remove any residual material.
The deck has stayed water and stain resistant for seven months and most dirt just rinses off after gentle brushing.
RESTORATION OF GRIT-TYPE NON-SKID DECK & SURROUNDING SMOOTH GELCOAT AREAS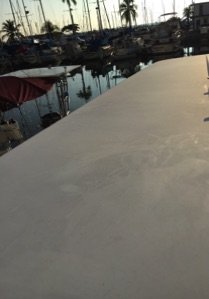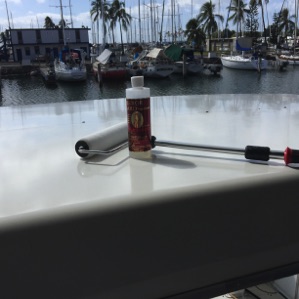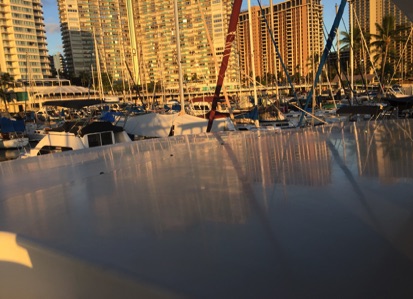 SIX MONTHS LATER, after wiping off accumulated dirt with water-soaked microfiber cloth.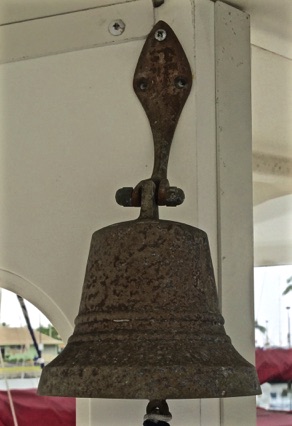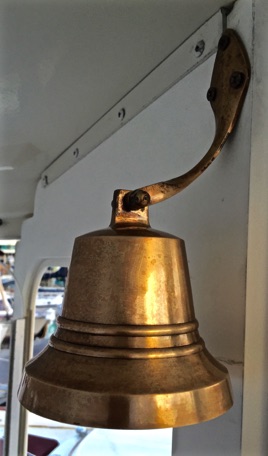 RESTORATION OF HEAVILY CORRODED SHIP'S BELL
Oxidation removed by Muriatic Acid, then semi-polished with 3M scuff pad (000 grade). Then sealed with two coats of MIRROR HARD Superglaze™
RESTORATION OF HEAVILY OXIDIZED SMOOTH GELCOAT