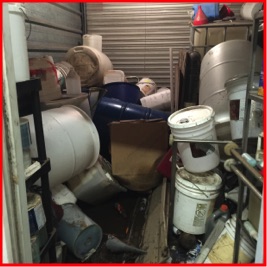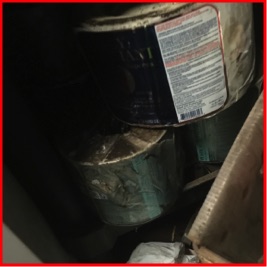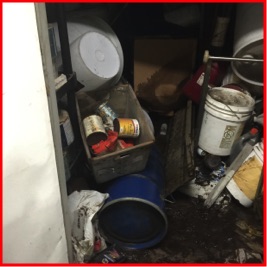 THE GREAT KALIHI FLOOD, JULY 2016
1. Items trashed, Four inches of mud to be shovelled out. Photo from July 25th 2016
3. Rolls of product labels that that had been soaked.
Luckily most of them were OK after drying in the sun
4. The mud outside was now drying and providing fine dust so that masks were recommended. Photo from July 27th 2016
2. Items piled up against the front roll-ip door. Photo from July 27th 2016
RECENT PROJECTS. We think that I (as inventor) should keep having more "hands on" experience with our own products....Indeed, this year (2016) our own experience provided improvements to our MIRROR HARD Superglaze™ formula and usage and to two new products, NON-SLIP Superglaze™ and SG Ox.boost™ in light of our own experience
UPDATED MARKETING via the Internet. If you are reading this, you have just seen our completely redone website. We are now in the process of Search Engine Optimization (SEO) promoting user groups through social media and aim to franchise a dealer-detailer network while investigating television opportunities.We are again sending out a monthly newsletter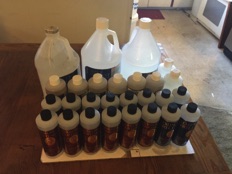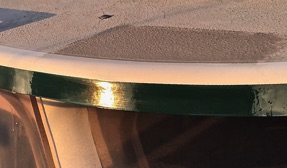 New batch of faster-setting resin coatings that are easier to apply. October 2017

Much of our bottled product and packaging material is kept at our office in Wahiaha, HI, but all bulk pre-mixed product, raw materials and rolls of labels erc are kept in a rented storage facility in the Kalihi area of Honolulu.
In July 2016 there was a severe tropical storm that caused overflow of a creek near Dillingham Street, and a surge of muddy water over 3 foot high in our storage unit. Because most of the chemicals were in sealed containers, we did not lose as much as other tenants who lost household furniture, and products for sale in local markets.
It is clear that the buckets and drums were floated on this surge of water and then all tipped over and fell where they lay. including a 300 gal tote of SEA GLOW™ that was almost empty. The storage management had to use a fork-lift just to roll up the front door that had items wedged against it. This area has never been flooded before and so was a complete surprise.
We were lucky and did not lose too much product. The dried chemicals miraculously survived because they were in sealed plastic bags. There was at least $40,000 of items that might have been lost! Photos taken less than one week after the flood.