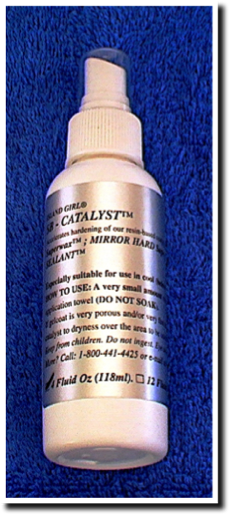 This water-based catalyst accelerates curing of SIMPLY BRILLIANT™ Superwax™, MIRROR HARD Superglaze™ and NON-SLIP Superglaze™.
This product was originally introduced to accelerate curing of the resins under cool (<65o F) temperatures. However its use on porous gelcoat, greatly reduces "soaking in" of the resins, since they cure before penetrating the pores, This helps eliminate areas of dullness in the shine.
Otherwise, under warm conditions or where there is no history of using acid-based cleaners or acid rain conditions, use of this catalyst is purely optional, especially with the NON-SKID SEALANT™.
TO USE: wipe over the surface with catalyst and allow to dry before applying the coating.
[On non-absorbent surfaces (e.g. LPU painted finishes), some customers report that the catalyst can be sprayed on the surface of MIRROR HARD Superglaze™ and then wiped gently to dryness using Microfiber Towel for instantly cured coating and shine].
WE DO NOT RECOMMEND USE OF THIS CATALYST ON POLISHED WOOD SURFACES
Available in 4 Oz and 12 Oz Quantities.
Sometimes this product is in short supply or unavailable