INTERIOR USES
CLEAR HORIZONS™ may be used to shine and protect brand new chrome and stainless - also glazed ceramics.
EXTERIOR USES
For better protection against salt-water corrosion of chrome, stainless steel and anodized aluminum, we have used our SIMPLY BRILLIANT Superwax™ , although any underlying rust (stainless and chrome) should first be removed and killed by an appropriate phosphoric acid treatment. More recently, we have found that MIRROR HARD Superglaze™ is EVEN BETTER as a rust and corrosion preventer, because of easier application. Both products not only seal off the surface from moisture, but also produce a barrier to atmospheric oxygen; both water and oxygen are required to corrode metal.
Because these resin-based products can adhere chemically to ANY surface, even impervious and shiny surfaces, they can be applied to polished brass, aluminum, stainless steel and chrome, as well as cast surfaces and anodized aluminum spars etc. We have found that MIRROR HARD Superglaze™ prevents the chalky oxidation of aluminum engine fittings, and even rust on bare iron and steel.
When treating metal that has already begun to corrode, it is important to chemically inactivate the corrosion process.
On steel/iron based materials e.g. chrome automobile fittings, dissolve out and kill any rust using a phosphoric acid-based chemical that is stated as safe to use on chrome.
On aluminum, use a "mag wheel cleaner", the most effective of which are based on hydrofluoric acid. In both cases rinse well with water and wipe dry. Avoid contact of these acid-based products with adjacent items such as rigging, rubber moldings etc. An example on a sandblasted mast is shown HERE See also a restored ship's bell HERE.
Extensive results from a boat in Honolulu Hawaii show at least 15 months protection of polished brass and bronze fittings portlights and a polished anchor windlass. See the Illustrations below: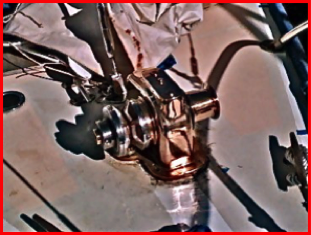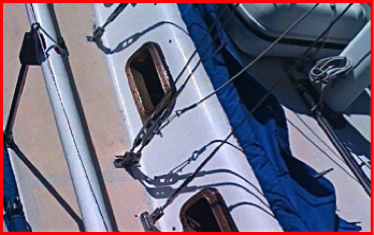 Photographs from "Smitty", Ala Wai Boat Harbor , Honolulu HI, April 2010.
More recently we used MIRROR HARD Superglaze™ to protect stainless stell rails and the polished bronze nosepiece on our own GULF 32 Sailboat.
This was done in April 2012. Now in October-November 2012, we are redoing the nosepeice. using ELIXIR™ and 3M grey scuffpads to remove the over 4 year old coating. Resins in the ELIXIR™ provide temporary protection against tarnishing until a thicker coating of MIRROR HARD™ can be applied. You can still see the untarnished bronze through the dirty and weathered coating which, when removed, shows that the bronze is still not corroded!