ELIXIR™ quickly restores old faded paintwork, with minimal cost and effort.
The boat above had an old single-part paint job that was in terrible condition and would normally have had to be stripped and redone at a cost at least $5,000.
Instead, the owner used our ELIXIR™ product with paper towel. The bad, peeling area at the waterline was " feathered" with wet/dry abrasive paper and covered with a new gold-colored stripe. Cost was a day's work and $90 for the product!
The solvent base of the ELIXIR™ quickly dissolved away the oxidized surface, then partially dissolved the surface paint, while impregnating it with color-brightening, anti-UV preservatives and resins, drying to a durable and shiny finish. For an even more dramatic shine we recommended an outer coating of MIRROR HARD Superglaze™,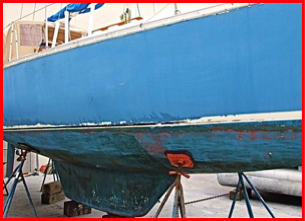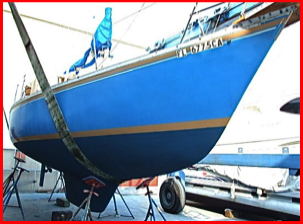 ELIXIR™ restores older house paint, as shown in the video.
Also shown is its ability to restore oxidized automobile paint surfaces and then polyethylene (as used on Kayaks and auto bumpers)
Restoring/Protecting small-items - painted or "stick on" lettering
Dull weathered single-part painted surfaces (e.g. lettering and stripes, the inside throat of cowl vents) can be "freshened" by very brief wiping over with one of our Cleanser-Conditioners or (even better) ELIXIR™ Then immediately neutralize with water and restore gloss with SILKENSEAL™, MIRROR HARD™ or NON-SLIP Superglaze™.
Small plastic fittings (as on inflatable boats) or "stick on" stripes or lettering can be similarly restored.
CARING FOR INTERIOR HOUSE PAINT
Finger marks are removed with water-diluted ISLAND GIRL Pink Cleanser™ , then wiping over with water-soaked towel, then wiped dry.
To safely remove marks from crayon, marker pen etc, again use IG Pink™ rubbed on carefully with a small swab of paper towel. Again inactivate by wiping with water. DO NOT ALLOW UNDILUTED CLEANSER TO SIT ON SURFACE OF THE PAINTWORK - it may cause it to lift! . Click HERE to see video demonstration.
SCUFF MARKS ON POLYURETHANE PAINT OR GELCOAT (Cars, RVs, Boat Hulls)
Scuff marks are usually caused by transfer from another painted surface, walls, boat harbor pilings, other cars etc.
They can be removed without damaging the painted surface by use of a little IG Pink Cleanser™ applied with white paper towel, then gently rubbed for less than a minute. Then neutralize the cleanser with water, wipe dry and repair surface shine with SILKENSEAL™ , MIRROR HARD™ or NON-SLIP Superglaze™ If you suspect that the surface is of "single part" (non-catalyzed) paintwork, then take special care by carefully monitoring transfer of underlying paint color to the paper towel. If this happens, Immediately inactivate the cleanser with water and wipe dry before sealing the surface.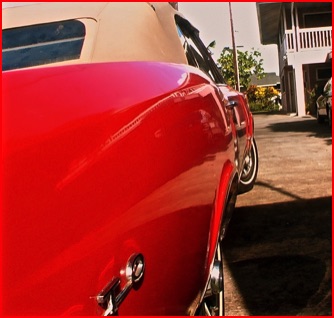 OUR 1966 PONTIAC GTO.
MIRROR HARD Superglaze™ was used to protect polyurethane paintwok for 7 years in Windward Oahu ( Hawaii) with NO garage. Chrome was similarly protected.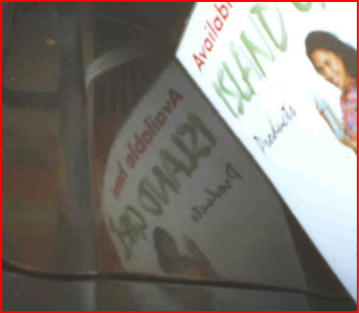 OLD AUTO PAINTWORK
MIRROR HARD™ Removes dullness & light oxidation as it seals. For severely oxidized surfaces, first use our ELIXIR™ product.
One way to assess depth of shine is to measure depth and clarity of the reflective area (often done with a ruler). The old dulled paintwork on a 1985 Ford Van was made fresh, new, and shiny by wiping over with MIRROR HARD Superglaze™ This area had been treated 4 months earlier, and just wiped over with a microfiber cloth before photographing.