RESTORING GELCOAT, GENERAL PRINCIPLES:
`
SAFELY REMOVE OXIDATION:
The main idea of the ISLAND GIRL® System is to use a selective chemical process to remove surface and deep-seated oxidation while leaving good gelcoat intact. This approach avoids (as much as possible) use of abrasives to remove surface oxidation, since they also remove good gelcoat and eventually make it too thin (click HERE for further illustration). The way that oxidation eats into gelcoat is discussed HERE.
Also on newer gelcoat, compounding or polishing scratches the surface so actually ACCELERATING oxidation by increasing surface area. This is analogous to sanding new steel surfaces which will induce rusting. Again click HERE for illustration. Our Cleanser-Conditioners (more recent ELIXIR™ selectively remove oxidation, even that which is deep-seated and causes grey coloration of dark colored gelcoat.
PREVENT AGING:
Anti-aging conditioners in the Cleanser/ Conditioners and (especially) ELIXIR™) prevent color fade and early return of oxidation while making colors more rich and vibrant. These preservatives are also contained in our resin-based surface coatings which also provide a physical barrier against weathering, especially against UV, atmospheric oxygen and water-borne pollutants.
SEALING THE SURFACE AND PRODUCING SHINE:
SILKENSEAL™ is a very flexible "plastic skin" sealant that can be used on most any surface. It seals the pores of older gelcoat, forming a foundation for regular paste wax or (especially) our new resin-based SIMPLY BRILLIANT Superwax™ and/or MIRROR HARD Superglaze™.
The Hawaiian 2-Step Process
A detailed flow chart of the process is shown HERE and the videos shown HERE and HERE with general principles shown HERE
Outline: Use ELIXIR™ to remove oxidation, preserve the gelcoat and seal the surface, Then use MIRROR HARD™ to provide extra shine and protection against weathering.
Details: In general, use paper towel to spread ELIXIR™ over the surface, then lightly scuff with a grey ("000" grade) 3M "synthetic steel wool" scuff pad, allow to soak in, wipe off excess and then allow to dry.
After wiping off any surface oiliness with microfiber cloth. apply MIRROR HARD™ with paper towel, microfiber cloth or low speed buffer. Again, use microfiber cloth to remove excess (from lap marks) or any slight surface oiliness see after the coating has dried. Water can be applied prior to final wipe down, Optional: for cooler conditions and/or porous gelcoat]: before application of MIRROR HARD Superglaze™, first wipe over with with SB Catalyst™, spreading it as far as it will go and then making sure that it is dry].
The finished surface should bead water without leaving water spots and will become increasingly hard over the next few days. Expect protective water beading for 3 years!
Troublehooting? if there are problems with resin shine due to rain etc Click HERE for instructions.
Original 3-Step Process
A detailed flow chart of the process is shown HERE with general principles shown HERE
Outline: First, use one of our Cleanser-Conditioners to remove chalky oxidation and impregnate the gelcoat pores with preservative conditioner. Chose NEUTRAL CLEAR™ for any color, including "earthtones". SEA GLOW™ is best for snowy white areas. For large boats, ask about our cheaper "Industrial Cleanser" that is sometimes available at a discount (it is "expired" Cleanser-Conditioner )
The next step is to use SILKENSEAL™ to seal the pores.
The third step is to apply SIMPLY BRILLIANT Superwax™ as a protective resin-wax coating. An optional extra step (that can be done in days or weeks later) is an outer coating of MIRROR HARD™ for extra shine and stain-resistance.
Details (as shown HERE): Use white paper towel swabs to apply the Cleanser-Conditioner and then a grey 3M grey scuff pad to "open up" surface to allow penetration of the product into the gelcoat pores.
In very humid conditions, use the friction of fast rubbing (paper towel) or a buffer to help dry off the SILKENSEAL™ that is water based.
When the resin-based coatings (SIMPLY BRILLIANT™ or MIRROR HARD™) have dried, use microfiber cloth to remove any oily residue.
Troublehooting? if there are problems with resin shine due to rain etc Click HERE for instructions.
ROUTINE MAINTENANCE
1. Hose down and wipe off surfaces weekly to avoid accumulation of grime and potential stains.
2. On dark gelcoat, touch up the shine every few months with SILKENSEAL™ and/or MIRROR HARD Superglaze™ or its "quickshine" emulsion form of NON-SLIP Superglaze™.
3. Remove sooty runoff stains with one our our cleaners or ELIXIR™ and touch up the shine with NON-SLIP Superglaze™ or MIRROR HARD™. The latter can be used to both remove the stained surface and replace shine in one quick step.
4. Under aluminum fittings that might produce grey streak runoff, remove stain as in 3. and then apply an outer coating of SILKENSEAL™ that is resistant to grey streaks.
5. NEVER use conventional abrasive compounds or polishes that can soften the resin coating and imbed gritty abrasives that will ruin the shine.
6. If, at any time, the resin coatings have to be removed to make repairs or prior to painting, use a toluene - based "grease and wax" remover from a car paint shop using 3M scuff pads ("000" Grade) . Proceed until water beading is absent, which means the coating has been successfully removed.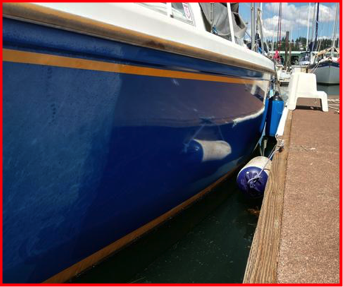 GENERAL CONSIDERATIONS:
a) Choose a warm sunny day (above 65o F). Try to start the job early enough for the resin coatings to become sufficiently water resistant to prevent dulling by evening dew. For quicker setting, use of the SB Catalyst™ is a good idea on older porous gelcoat.
a) In General, avoid excessively thick coats of our resin-based coatings SIMPLY BRILLIANT™ or MIRROR HARD™. Allow each coat to dry before applying another. This avoids slow setting which can cause too much stickiness or oiliness while drying. However, there is always a superficial oily sheen that can easily be wiped off with microfiber cloth].
There is an exception for professional use in hot, dry conditions: One thick coat can be applied by roller followed by complete curing (weeks later) before wiping off the dirty surface with water-soaked towels. You can see results of this process HERE