Seaglow™Cleansing Lotion & Conditioner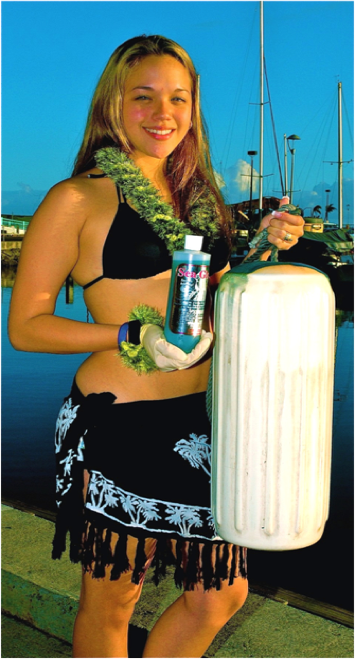 RESTORES & MAINTAINS WHITENESS/ COLOR BRIGHTNESS
REMOVES SURFACE GUM & OXIDATION; RESTORES & MAINTAINS SUPPLENESS; & MORE (below):
Restores & Maintains Snowy Whiteness of white plastics, rubber, & gelcoat even after they have become yellowed
Renews Luminescent Brightness of all non
'earth-tone' colors
[Note: for earth-tone colors, brown, beige etc, use NEUTRAL CLEAR™ Cleanser/ Conditioner. Less effective on white. ELIXIR™ can be used on any color of Gelcoat or paint.
Removes Gumminess & Scale due to 'sweating' of vinyl plasticizer.
Removes & inhibits Oxidation of vinyl, hypalon & fiberglass gelcoat.
ALSO
Improves Suppleness of vinyl, rubber & hypalon by replacing lost plasticizer and supplementing existing plasticizer.
Protects Against UV Damage that can cause free-radical-induced cross-linking (another cause of brittleness)
Prevents color Fade due to "pacification" of the harmful effects of UV.
Inhibits Mildew & Algae Growth that eventually discolors most plastics.
Reverses & Prevents Yellowing lexan, clear vinyl, & clear synthetic rubber (as on sports shoes).
All this WITHOUT damaging the good underlying surface.
THE IRONY: SPECIAL FLUORESCENT BLUE CONDITIONER RENDERS UV IN SUNLIGHT BENEFICIAL RATHER THAN HARMFUL!