1. "... Reviewer's choice ISLAND GIRL® Cleansing Lotion ( predecessor of IG Pink™ ) worked best on the hypalon inflatable (versus 8 other products) and is excellent for a multitude of other uses, such as cleaning fenders (better than acetone we found) and pretty much everything else..." - Reprinted from Longitude 122, California, July 1995
2. "ISLAND GIRL® Cleansing Lotion ( predecessor of IG Pink™ ) was very effective in cleaning the chalky residue from Hypalon inflatables (sometimes difficult in the past) and also removes the sticky surface that forms on the PVC boats. We also found the ISLAND GIRL® product effective in removing yellow cast from the surface of an older white PVC inflatable. We also tried this product on a few other projects (dirty lifelines, fenders, electrical cables) and were very happy with the results. Of the many products that we sell, ISLAND GIRL® is a standout performer" - Sharus Marine, Dana Point, CA, 1995.
3. "Cleaning is mandatory ... a safe product such as ISLAND GIRL® Cleansing Lotion is recommended" - Nathan Krantz "Inflatable Boat Safety" The San Diego Log, May 10th-13th, 1996
4. "We purchased new ISLAND GIRL® Pink™ Cleansing Lotion™ at the 1996 San Diego Boat Show to remove paint from our Avon Dinghy. It worked like magic, without damage to the fabric, just as claimed!" - Loretta and Dick Ark, S.V Cowboy Hatt, San Diego, CA.
5, "After leaving a new Thunderduck™ inflatable dive boat in a wood shop to have a wood flooring job done, we were dismayed to find the surface of the boat covered in sawdust imbedded in over-spray from a wood finishing product. ISLAND GIRL® Pink Cleansing Lotion™ came to the rescue and removed this sticky mess from the surface of the KP14 heavy duty vinyl hull. The renewed surface was protected from further harm by the new SILKENSEAL™ companion product. Needless to say, we now routinely use (and sell) ISLAND GIRL® products in our own shop." - Randy Helms Marine, Alameda CA (Thunderstruck Distributors)
6. "I used SEA GLOW™ on my red Achilles inflatable that was badly oxidized. With a minimum of elbow grease it came up looking like new. I will now use SILKENSEAL™ to preserve the finish." - P. Sandlin, Chula Vista, CA., June 14th, 1997
7. "One of our tasks is maintaining patio furniture for a large number of apartments. Last year we had purchased ISLAND GIRL® Pink™ Cleansing Lotion™ at the San Pedro West Marine Store where it was highly recommended. It did a fantastic job on the webbing of the patio furniture, although it had to be allowed to soak for a few minutes. This year, the store was out of stock so we special ordered Island Girl NEUTRAL CLEAR™ Cleanser/Conditioner, because of the vinyl preservatives that are present. We finished off with the new SILKENSEAL™ that forms a weatherproof barrier. We have tried all other cleaners carried by hardware stores and West Marine but nothing else works like the products from ISLAND GIRL®." - Steve Zarragoza Golden State Maintenance Los Angeles. CA, June 1998
8. "Although the instructions are a bit hard to understand, the products (ISLAND GIRL® Pink Cleansing Lotion™, NEUTRAL CLEAR™, SEA GLOW™ & SILKENSEAL™) worked excellent for me on boat hulls, a Zodiac®, and especially well on vinyl fenders and cushions etc." - Ron Lumstedt, Santa Cruz, April 1999
9. "My husband and I just wanted to let you know that we love the ISLAND GIRL® Pink Cleansing Lotion™ product! My husband and I utilized the product several years ago, on the used inflatable boat that we purchased. Your product made the inflatable boat look like new! Before trying your product, we had tried several cleaners and with disappointing results. A representative of West Marine, located in Marina Del Rey, California highly recommended your product. Since we had not heard of the product before, we were a little wary, but decided to try it. We tried it and then loved it! The product took away all of the grime and discoloration! We recently purchased another used inflatable boat and again wanted to utilize the ISLAND GIRL® product. We have tried to find your product at West Marine-Marina del Rey, California, at West Marine-San Pedro, California, and at Boater's World-Torrance, California. No one seemed to carry your product! We finally jumped on the internet to do a search and we found your website. I will be placing an order as soon as I am finished with this e-mail." - James & Jocelyn Pickard, CA, June 2001
10. TEST RESULTS FROM DINGHY FABRIC MANUFACTURER: "...I am pleased to inform you that we have now obtained some test results on the sample of SEA GLOW™ that you provided. The SEA GLOW™ was applied to two Hypalon coatings that had been produced using pigments of known poor UV stability (that we do NOT use in our production). The fabric samples were left continuously exposed at a UK location for a period of 21 months. The untreated samples showed a large loss of color, whereas the treated samples were almost unaffected. Our tests have shown that SEA GLOW™ should give a significant level of protection against fading and we would therefore like to encourage its use. Kind regards. - Ian Shaw, Technical Sales Director, Coated Fabrics Division, Chiorino UK Ltd., Gildersome, Leeds, England August 8th, 2002."
11. TEST RESULTS FROM DINGHY MANUFACTURER: "In light of our own and other tests, we use and recommend the ISLAND GIRL® System from Hawaii to clean, protect and preserve our Aquadutch™ and other inflatable dinghies. Since we now have some trade in dinghies, we can actually see the difference in condition (lack of stains, ease of cleaning) seen on boats that had received the ISLAND GIRL® Treatment.' Boats that are several years old still look like new." - Hildo Haster, President of YSH LCC, (makers of Aquadutch™ inflatable dinghies) January, 2003
14. "... ISLAND GIRL® Cleansing Lotion ( predecessor of IG Pink™ ) was applied to the oxidized surface of a computer monitor that had been exposed to the sun for some years. After a few minutes, the oxidation could be removed by a quick wipe with a paper towel. We know of no other product that can remove oxidation without the use of abrasives and much rubbing. SEA GLOW™ also cleaned and whitened the vinyl of an old shop-display fender." - Down Wind Marine, San Diego, CA., March 1996
15. "I had been seeking a cure for a difficult cleaning program, i.e removal of a sticky kerosene residue from the surface of my balloon-type red fenders. I had tried acetone, MEK, and a number of other cleaners with no success. ISLAND GIRL® Pink Cleansing Lotion™ removed the residue and left a clean, new-looking surface with very little effort. Needless to say, I'm sold on the product." - L. David Newgan, S.V Orea, San Diego, CA.1996
16. "We now use SEA GLOW™ and ISLAND GIRL® Pink Cleansing Lotion™ in our boat detailing business, since we can now save time and yet produces dramatic results." - QC Services, Newport Beach, CA.
17. "ISLAND GIRL® Pink™ Cleansing Lotion™ produces dramatic results by removing chalk and airborne oily grime. ISLAND GIRL®'s products are unique in removing the sun damage from vinyl upholstery. Effects of the new SEA GLOW™ are so dramatic that white vinyl fenders cleaned by any other method still look dirty by comparison." - Linda Heisig Delta Yacht Care, Stockton, CA.
18. "I was amazed at how SEA GLOW™ rejuvenated the oxidized white and blue webbing on my outdoor chaise lounge."
- Steve Thompson, Redwood City, CA., July 1996
19. "I used ISLAND GIRL® Pink™ Cleansing Lotion to restore a badly discolored vinyl seat cushion on which no other vinyl cleaner had been effective." - Art Kempton, Clearwater, FL., May 1997
20. "I am writing to tell you about a recent satisfying experience with two of your products. While washing down my boat after a fishing trip, a chart became wet and left a large stain on a white seat cushion, that could not be removed by any of the many cleaning products that I have collected in my lock box. I used your SEA GLOW™ which totally removed the stain. I then sealed the surface against further staining by use of your SILKENSEAL™ product. I was sufficiently impressed to inquire about becoming a local representative for your products." - William Johns, Bradenton FL., February 1998
21. "I am writing to say how satisfied I am about the products and customer service of the ISLAND GIRL® Company. I had purchased ISLAND GIRL® Pink Cleansing Lotion™ from a local TAP Plastics store and used it to remove the yellow oxidation from the rear window of my ten year old convertible car but was I was still not satisfied by the clarity of the plastic. Dr. Willis, the owner of Island Girl Products met with me on a weekend and demonstrated to me that although the oxidation was now gone completely, it had (like rust on metal) left surface pitting. We removed the worst of the roughness with some rubbing compound and then applied CLEAR HORIZONS™ to fill in minor imperfections and provide a clear and slick surface. While not 'as new,' the useful life of the window has been extended for some considerable time. I was informed that use of CLEAR HORIZONS™ on the window, when new, would have greatly delayed the onset of deterioration." - Vincent G. Boston, San Francisco, CA., February 1998
22. "Over the past 3 years, a white plastic compass cover on my boat had turned more and more yellow. I tried everything I could think of to clean it. I was about to purchase a new cover, when I saw your products demonstrated at the Marina del Rey Boat Show. Your SEA GLOW™ product removed the oxidation and completely restored the original white color. the finish was sealed by SILKENSEAL™. The cost of the products were covered by only its first use!" - Dave Kull, Marina del Rey, CA., June 1998
23. "I used the ISLAND GIRL® system (ISLAND GIRL® Pink™ Cleansing Lotion, SEA GLOW™ , SILKENSEAL™ (bought at Al's Marine and RV in Redwood City) to restore the clear vinyl ('Eisinglass') of my dodger that was becoming yellowed and also to restore and protect my vinyl upholstery and fenders. The results were great!" - Kathryn Leavitt Redwood, CA., April 1999
24. "When our municipally-owned marina was refurbished about 2 years ago, they had intended to replace all of the white vinyl rub-rail on the docks. We demonstrated to them that if not actually cracked, the rub-rails could be restored virtually 'as new' by mild scuffing with SEA GLOW™. Those treated rub-rails have still remained white and supple in all this time. The council was saved a lot of money and we were glad of their business through sale of the product!" - Vince Macaluso, Owner, Veejay Marine, Pittsburgh, CA., Feb 2000
24. "I used ISLAND GIRL® Pink™ Cleansing Lotion to remove tape residue from a Plexiglass® model of the Power 43 Lagoon at the Pacific Sail Expo, then CLEAR HORIZONS™ to shine it up like new." - Linda Gustas, Marketing Manager, The Catamaran Company, Ft. Lauderdale, FL., Annapolis, MD., Newport, CA., April 2001
25. "Here was the challenge; we have three chaise lounges, white pained aluminum frames with white vinyl straps...about four years old. They were purchased at Costco, so they were good, but not top quality. Over the years the straps started to take on a beige color, actually oxidized vinyl chloride (or whatever) probably. The texture was rough, sort of reinforcing the obvious oxidation condition theory. To remove the oxidation I finally ended up using a scotch plastic abrasive pad and a strong soap solution. That worked fine for two of them, plus about five/six hours each. It is fairly hard work and not all that effective. It leaves a roughed surface that will much more quickly oxidize. However it is almost embarrassing to discard three large items because of the potential work involved. Consumerism at its worse. Here are the results of your two products so far: The SEAGLOW™ cleaner was excellent. It made the cleaning job noticeably easier and I am only sorry that I didn't have it sooner. It would have saved me hours of really hard work. I highly recommend it to anyone for this application. You can use that as an endorsement. The SILKENSEAL™ will take more time to evaluate. " - Jack Abouchar, May 13th, 2007
26. "Greetings Dr. Willis. I am a huge fan of your products.  I have used them on my white Novurania inflatable.  I am a neat freak (a curse, I know) and the cleaner and sealer keep the boat looking new all the time." - Robert Norton, December 2007
27 . "Hello. We tried your products on our new-to-us pontoon boat.  The upholstery is mainly white and when we bought the boat I was quite sure we would never get the upholstery white again.  With the dirt and grime having accumulated over the last 10 years, you can just imagine. The upholstery was washed first with ISLAND GIRL Pink™ and it removed the surface grime.  But the upholstery was still black.  Then we started using the SEA GLOW™, honestly the 10 years of grime was removed.  It took some work but it really became white again. There is no stickiness or greasiness to the upholstery.  Then it was washed down again with water.  SILKENSEAL™ was then sprayed on and buffed and the upholstery feels like new again.  There was a dirty scuff on the upholstery after using and it wiped right off. These are great products.  We have ordered more to keep the boat looking new.  I have included some before and after pictures.  The difference is amazing."
Paul and Virginia Davis
Lake Havasu City, AZ
March 8th, 2008
28. "Hi Dr. Willis,
Thanks for the call today concerning the use of the Island Girl's SEA GLOW™ cleaner and SILKENSEAL™ sealer product on my Hypalon dingy.  I'm amazed, not only did the Hypalon come up as new, but the plastic parts such as the oar locks and air valve covers also restored to like new condition.
I've attached a few pictures of the dink during the work.  I will be placing another order soon, I hope your stock is replenished quickly!"
Best,
John Turco
April 2010
29. Here are some photographs of our old Aven RIB Inflatable. The original gray color has come up "as new" and the logo is now really bright . Other products that we tried in the past were pretty much ineffective.
Regards Hector Mares, (January 2013)
30. Hi Dr. Willis:
We are the people who who restored the blue inflatable shown in you testimonial #12 above and in your Online Instruction Book.
We can now report that your products work equally well in a white and gray 2007 Walker Bay composite dinghy that was yellowed and dirty. This was soon cleaned up and the yellowing removed by you NEUTRAL CLEAR™ product, The surface was sealed as before.
Sincerely
Linda and Dave Jager (July 3rd, 2013)
31. Restoring and Preseving a 22ft white Hypalon Dinghy
I have been a a customer of your company since 2006. My 222ft Zodiac is constructed of white hypalon and got really filthy at the boat yard over the winter due to air pollution, including bottom paint dust. I tried absolutely everything to get the hypalon clean - no luck until I again tried your products (SEA GLOW™ and SILKENSEAL™ as described on you website. They worked like magic in restoring original color and texture. I have now ordered more product indcluding your ISLANDGIRL PINK™ for routine cleanup.
Thanks Again
Harlan Wendell, Essex MA, July 2016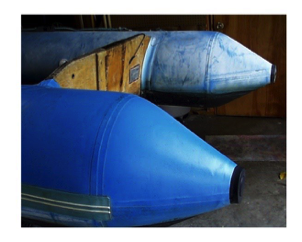 12. "Dr. Willis, Yes, I have received the products I ordered and have already put them to use. In a word, Fantastic! The removal of oxidation, mildew, and soil from my dinghy by SEA GLOW™ is nothing short of miraculous. The process was effortless and the results breathtaking. Here are some of my results on a blue Achilles dinghy (see picture below). SEA GLOW™ and the power cord were a natural fit; oxidation gone and color restored. Surface feels soft and pliable, not rough and stiff. Great stuff! Your products performed as advertised, I am a satisfied customer." - John Adams, New Bern, NC. May 8th, 2005
13. "It's amazing! Nobody thought it would work on this dinghy that had been abused for 12 years (see pictures below). 'Store bought' products from the big manufacturers only work slightly. SEA GLOW™ removed oxidation & restored the color, then SILKENSEAL™ sealed the surface." - Dave and Linda Jager, Harrison TWP, July 2007
SEA GLOW™, THEN SILKENSEAL™